From dark moody blues to pale porcelain to ultra-glam silver, here are some original bathroom color schemes for every taste!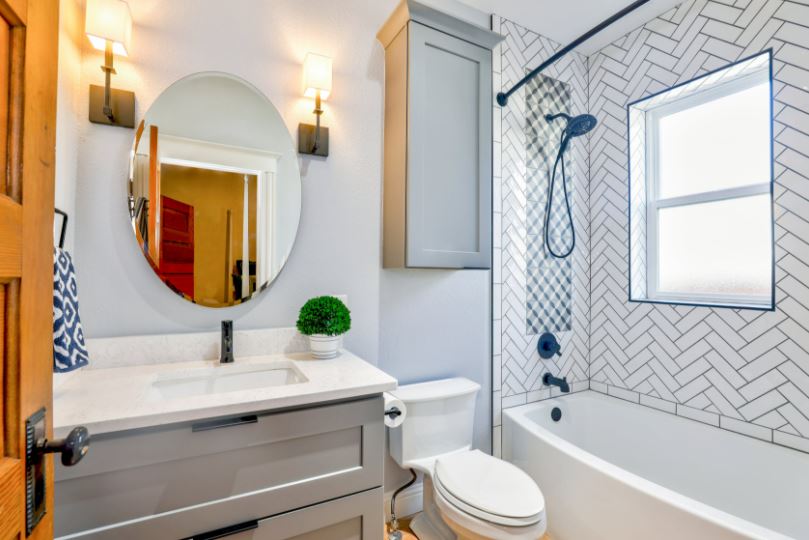 Bathroom is the space to unwind and relax. And of late, the role of bathrooms is extending – pamper yourself and rejuvenate at home (who needs to go to a spa anymore?). A beautifully designed bathroom makes all this possible. And more and more people are looking to spend and plan to create that perfect bathroom.
So here are some luxury bathroom color schemes that I have created for your inspiration. Perfect for the modern bathroom, I'm sure these will make you fall in love! Whether you're creating the bathrooms for your new home, renovating your old ones, or designing for a client, let these new bathroom color schemes be your guide!
9 Bathroom Color Schemes & Themes to Try
To create these themes, I have used inspirations from latest colors and elements in fashion and architecture, as well as new materials trending in luxury hotels and villas. I have also created these bathroom color schemes that can suit a variety of tastes, interior décor themes and space-sizes. Using a variety of different combinations and inspirations, these color schemes and themes are what I feel will be trending in the years to come. So let's take a look at them all, plus ideas on how to recreate them yourself.
Raindrops – Dove Grey & Aqua Blue
Here's a fun and cool color palette that would work well for both small and large bathrooms. For this theme, I got inspired by rain, so I used the colors aqua blue, white, chrome and dove grey – to create the feeling of raindrops, cloudy skies and cool breeze.
The easiest place to start here is glossy marble-finish wall tiles, and gloss-finished marble for flooring. You can go for an accent wall with glass tiles in blue, with wavy or rain-drop texture. And to add an extra rainy touch go for a ceiling-mounted rain-shower. Add a blue onyx counter with a blue glass wash basin and chrome-plated bathroom fittings. If you have a bathtub, you can go for a white glossy finish or marble finish to match the tiles.
Use white glossy finish for your bathroom cabinets too. Perhaps a glass pendant lamp designed like bubbles or rain-drops would be great, and a matching shower-curtain. You can also add some pale blue glass pots with ferns for a simple lush effect. For some finishing touches, you can decorate a rain-themed wall art, and clear blue accessories set.
Walking on Clouds – Iridescent Silver & White
Wow – here's a brand new theme. This is one of the newest bathroom color schemes I have created that kind of mixes some dreamy elements to create a fantasy yet contemporary theme. Inspired by clouds and all things heavenly, I have used silver, cool white with hints of iridescent powder blue.
The first thing to start with are curvy plexi tiles or glass mosaic tiles that are iridescent white. These would work perfectly on an accent wall, perhaps on a main wall or in the shower. You can also add holographic tiles around the mirror. For the rest of the walls, go for silvery white or opal white tiles. A matching opal white counter would be nice, or Australian marble too.
Try to find a faucet set in clear glass, or crystal-themed. A clear glass wash basin would be a nice idea here. And if you want a statement element, try bird-shaped pendant lamps, along with an iridescent bathroom accessory set.
Midnight Mystique – Deep Blue & Cool White
Very romantic, mysterious and grown-up, this is one of the bathroom color schemes that would be the perfect addition to a bachelor-pad. or would also go well with a modern Scandinavian interior decor theme.
Amethyst Opulence – Dark Grey & Purple
If you're looking for a classic décor idea with a contemporary touch, here's the perfect theme to try for your bathroom. Owing to dark colors, this would work well for larger bathrooms, as deep shades make small spaces seem even smaller.
Deep grey is a great idea for those who want something low-maintenance. Add purple, amethyst or violet accents and add amber or copper accents. Add hints of violet, purple or amethyst and voila, you have the perfect timeless color scheme.
Go for the deep grey tiles behind the shower and if you want, also behind the mirror – as these are the spaces that usually get splashy. Add some beautiful purple mosaic tiles on your accent wall. To balance the deep shades, a white Corian counter would be a good idea, and white flooring too.
Copper-colored accessories and shower would be a great idea. And you can find matching or black faucets. To finish it all off, find a blown-glass pendant lamp in deep purple and copper. You can also decorate purple flowers in a vase, or find something with purple flowers for your shower curtain.
One with Nature – Beige with Green Accents
For those of you who love something rustic and natural, here's the perfect theme for a house with eco-friendly interior design. Seed, sand, porcelain and beige – you can mix up the warm neutral shades for your finishes and accessories.
Beige and sandy shades also go well if your bathroom's shower opens up or looks into an open space. There you can create a tropical lush environment for those relaxing baths (go for a nice ceiling-mounted shower)! In fact, for a theme like this, you can also try pink and timber.
To recreate this theme, start by choosing the perfect slabs of Italian marble that you can use for flooring. And then go for matching Italian marble tiles for your walls. You can either have floor to ceiling covered in these. or add an accent wall either in front of the bathtub, or behind the mirror. For the accent tiles, you can use chocolate-colored mosaic tiles or a combination of gold and cream tiles.
Add gold-finished faucets and shower fittings. You can also add a leaf-shaped pendant lamp, and even a leaf-shaped sink in green glass. Finish off with some timber – wall art perhaps or planters.
Moss & Eucalyptus – Olive/Moss Green with Marble White
The days of olive are now giving way to the newfound love for moss green and seaweed. However, for this bathroom theme, I've selected the moss green in a eucalyptus theme for a modern, cool décor. This color works perfectly as an accent color over white. You can also select dove grey or cream as a background.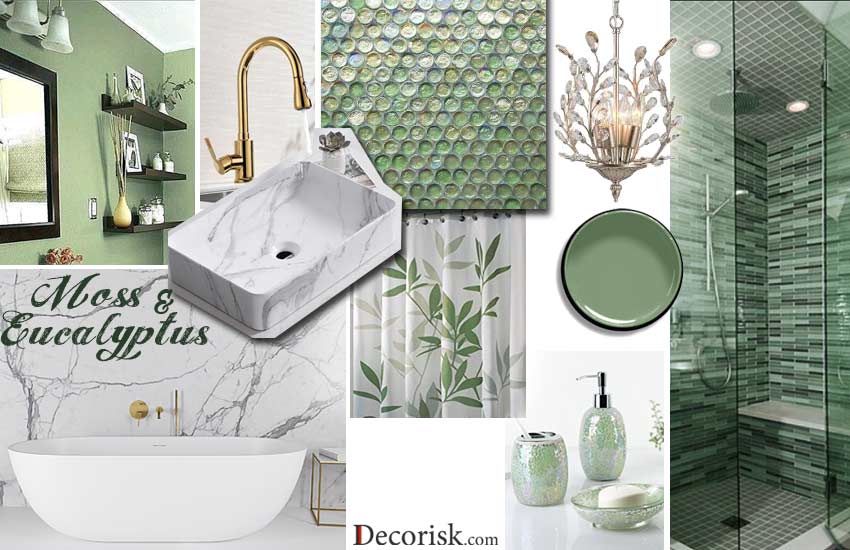 The materials I've chosen for this theme are eclectic. A mix of different things that can give this bathroom a contemporary yet luxe vibe. You can choose moss green, which is a pale shade of cool green, for an accent wall. And in the shower, you can go for circular mosaic tiles in iridescent moss green. Try white marble counter with a matching wash basin. And on all this, gold faucets and shower would look perfect, as its warmth would tie together the whole color scheme.
You can also find a shower curtain with eucalyptus leaf design in white and moss green. For finishing touches, add a leaf-themed pendant lamp in gold and crystal. And perhaps a set of bathroom accessories with moss green mosaic finish.
White Sands – Gold, Beige & Warm White
Coastal themes never go out of fashion – and work for both large and medium-sized homes. If you want a different theme for each bathroom, this is a good one to try in your master bathroom. A space for relaxation that reminds you of the white sands and sea-shells – who wouldn't want to have a long bath here!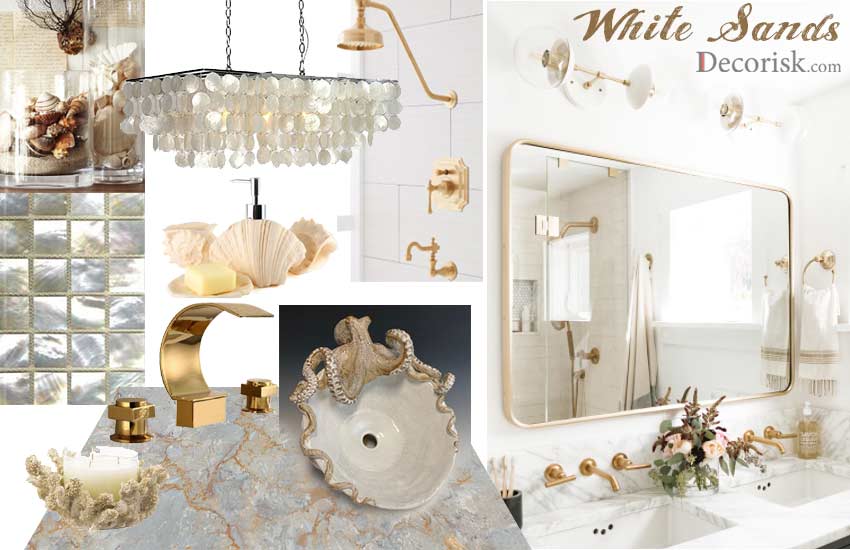 To recreate this beachside theme, you can start by choosing the right shade of white for tiles – ecru, seashells or moon white – your choice. And match a marble for flooring – Italian or Australian marble would work well too. For the counter, you can choose a mother-of-pearl finish, or onyx slab.
You will need mother-of-pearl accents for this theme, which you can add in the form of a chandelier, pendant lamp and also mosaic tiles for your accent wall. You can also get a custom-made mirror border fixed with sea-shells or mother-of-pearl. Go for gold bathroom fittings like shower and faucets, along with a sea-shell shaped wash basin. Oh, just thinking about it makes me want to be here!
Luxe Glimmer – Silver & White
If you have a taste for all things luxurious, glamorous and shiny, here's one for you. Inspired by diamonds and solitaires, this is one of the most luxe bathroom color schemes on my list. Silver and white are an uber-rich combination, and looks super-glam.
This theme would work perfectly in a large bathroom. For this theme, you need the shiniest Australian white marble for your flooring with hints of glass. Choose a set of crystal, glass and white tiles for your accent wall, which you can have near the bathtub or next to the mirror. Go for a large white bathtub with intricate silver legs.
If you have a seating space, you can use that to create a nail-bar or spa with a chaise lounge in silver-leatherette or light grey velvet. Add an accent flooring below it with silver mosaic.
Use crystals in the mirror border, or if you want it more classy, go for a silver-framed mirror. Chrome-plated bathroom fittings would work well with a set of silver-finished bathroom accessories. A geometric-diamond-y wash basin would add an edgy touch. You can also add a minimal glass pendant lamp or silver artwork.
Soothing Spa – Porcelain & Stone Blue
If you don't want to go for something too chic or showy, here's a very minimal and subtle theme for you. The colors of stone blue and porcelain create such an organic ambience that would be great for a spa-themed bathroom.
Porcelain is a great stone and has such a soothing color and texture, although it is a bit high maintenance. So it would be good to use matching creamy marble instead for flooring, counter, wash-basin and bath-tub. You can alternatively go for a white ceramic wash basin and tub.
Use matching matte-textured tiles on the wall. And you can use the stone blue color for wall paint and mosaic tiles in the shower. For accessories, try to find a beige-colored set of bathroom accessories in matt-finish. And perhaps a matching vase to decorate some flowers or leaves in.
Jute pendant lamps would be a great idea to add the all-natural touch. Or a minimalist bamboo pendant light. Finish with some Zen pebbles, potpourri and flowers in the bath-tub!
I could go on forever, as there can be countless more themes one can think of when it comes to home décor. But we must end this article here, as we'll get back to other colors & themes another time!
So I hope these bathroom color schemes were helpful, and that you enjoyed looking at my moodboards, which seriously took me a long time to plan and create. Which one was your favorite? Let me know which one you loved and what would you choose for your dream bathroom in the comments below!
Happy decorating!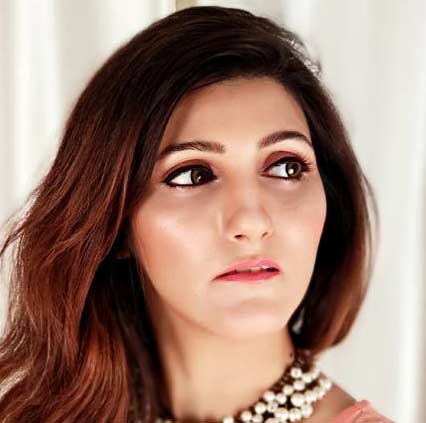 Shilpa Ahuja is a designer and editor of Decorisk Magazine. She has worked in hotel interiors at The Park Hotels, India, and has completed several home interior design projects as a freelancer.
She completed her Masters in Design Studies (MDesS) degree from Harvard University Graduate School of Design. She also has a Bachelor degree in Architecture (B.Arch) from Chandigarh College of Architecture. Her work has been published in Indian Design & Interior magazine and exhibited at Harvard University and at Aroma Hotel, Chandigarh.
Shilpa is also the Editor-in-Chief of Shilpa Ahuja Digital Media, which includes ShilpaAhuja.com, one of India's most-read digital fashion magazines. Originally from Chandigarh, she is currently based in Chennai, and can be reached at c[email protected]