If you're bored with your bedroom look, here are loads of DIY decor projects to redo it. Our ideas for decorating your teen bedroom are perfect irrespective of skill level.
Redecorating your teen bedroom is the perf way to showcase your evolving self. It should highlight your personality and interest while still blending in with the other rooms. You may want something that is timeless yet nothing too complacent. In this way, you won't outgrow things and also easily upgrade designs at the same time.
We understand that by this age you may have outgrown a childish room. You wish to make it look grown-up! Perhaps you may add in a desk, formal seating, cool wallpaper prints, cartoon-free patterns, fancy lighting options, or a cute graphic pillow. You don't need to go all the way for a mature setting. Instead, go for something that matches with your vibe and evolving personality.
Below we present 15 ways of decorating your teen bedroom. These ideas are perfect to create a space you relate to. We have categorized it into six DIY projects and nine decor ideas to kick in the vibrant fun you need. First, let us begin with the do-it-yourself designs.
Six DIY Room Décor Projects for your Teen Bedroom
The projects include selfie portrait wall ideas, statement dresser, stamped pillows, and other ideas on display. Here you go.
1. Selfie Printable Canvas Portrait Wall
If you are looking for ideas for the bedroom that brings out your best memories, then creating a selfie printable canvas portrait wall would be perfect. And it'll be cool to create a selfie photo wall using your best Instagram pictures. I'm sure your phone is flooded with your selfie pictures already. Now all you need to do is have the pictures printed and learn how it all works out through the steps below.
What you will need:
Steps:
Once you are sorted with the pictures, print them in different sizes.
Use a ruler to make the accurate dimension of your prints and keep the grid neat.
You can also get creative with angles to produce a creative display of your pictures. Stick them onto a canvas.
Last but not the least, use a poster tape to avoid damage to the walls and prints. You can also decorate it with sequins, crystals, or glitter.
2. Rope Shelf
Shelving is another great choice for decorating your teen bedroom. It will keep your space organized and clean. If you wish to make something of your own then you can try the rope shelf. This project is surprisingly simple to create and inexpensive. So let's start!
What you will need:
Wood (dimension of the desired choice)
Rope (8mm-15mm)
Drill
Two hook screws (large)
Steps:
Take the piece of wood. Drill about 10mm-17mm holes. The holes have to be bigger than the width of the rope.
Drill the wall for fixing the two screw hooks.
Use the rope to pass through the lengths of the holes.
Tie the rope underneath and secure it with a tight knot. Remember to test it before use.
Next, tie the two ends of the rope into a knot.
Hang them over the hook screw and you are done!
You may adjust the height or level of the rope shelving by tying the two top knots.
3. Pom Pom Chairs
Pom-pom chair designs are a creative way to provide a cool aesthetic to the bedroom. These fancy seating will allow your colorful personality to come through for a unique experience. You can also custom your own design. The artistic options are limitless. Presenting everything you require for creating your own DIY pom-pom chairs!
What you will need:
Chair
Cushion
Sandpaper
Spray paint
Drop cloth
Hot glue gun
Glue stick
Yarn pom-poms in desired colors and sizes
Steps:
Use the sandpaper on the chair to sand off and smoothen rough patches.
Spread the drop cloth and use spray paint on the chair. You may consider using a primer first if you are painting over a dark chair, to make the color pop out.
Allow the paint to dry off.
Apply a fresh coat as required. Use a thin brush to go over any leftover corners, etc.
Use hot-glue to fix the pom-poms on the cushion. Fix them close together while carefully concealing the cushion fabric.
Fix the cushion again. Your pom-pom chair is now ready to use!
4. Icicle Lights Headboard
Here's proof that you can be vibrant while still maintaining that teen vibe. The icicle lights headboard will make the whole bedroom pop. We also love the idea of putting it above your head where it feels more stated and cozy.

What you will need:
Icicle style lights (2sets)
Rubbing alcohol
Pencil
Picture hanging strips
Cotton bud
Steps:
The first step is to decide where you want to hang your lights on the wall or around your headboard.
After measuring, mark 7-10 points using your pencil in an arch shape.
Dab a small amount of the alcohol onto the cotton pad and clean off the marks. Allow it to dry off.
Then take the hanging strips and follow the usage directions.
Peel off one side of the back sticker and place it onto the plastic hook.
Now remove the other side of the sticker and stick them on the wall. Make sure the wall is dry and clean.
Press it firmly against the wall for 30 seconds.
Follow the steps for the rest of the sticker while following the arch markings.
Once you're done, wait for 15 minutes.
Now it is time to use the lights.
Plug the two sets of the icicle lights together.
Start from the center. Hang up the lights.
Space out the lights while you do so. Arrange them according to your desired choice.
5. Statement Dresser
Refurbishing a dresser can is a good idea if you are thinking of decorating your teen bedroom and upgrading your storage solution. Keep reading to learn how to give a makeover to your old dresser in the most creative way at home.

What you will need:
Dresser
Screwdriver
Sandpaper
Primer
Sealer
High gloss paint (desired color)
Gold spray paint
Ruler
Knob
Painters tape
Pencil and ruler
Screwdriver
Paintbrushes
Steps:
Take the sandpaper to remove the rough edges and to smooth out the dresser. Keep the surface clean.
Wipe off with a clean cloth for remaining sanding residue.
Next, paint the dresser using two coats of primer. Make sure the first coat dries before doing the second.
Once the primer dries off, paint the drawer, chest using three coats of the high gloss paint.
Then paint the drawer sides with a different color for a fresh look.
Once it dries off, slide the parts into the frame of the dresser.
Measure and mark the areas using a pencil and a ruler.
Remove the drawers. Seal the patterns using a painter tape. Finish off with gold spray paint.
Once dry, take off the tape screw and seal onto new knobs.
Place the drawers back into the frame of the dresser and you're finished.
6. Stamped Pillow
Vibrant, graphic pillows are the simplest way to add personality to your teen bedroom. They look so vibrant and unique. If you are hoping to show off your sewing skills, then this is the perfect DIY project for you. While custom-made pillows are simple to print out and sew, you can make this DIY project using plain pillow covers. Our easy-to-follow directions below will help you create one.
What you will need:
Moldable foam stamp blocks (2)
Utility knife
Drop cloth
Scissors
Ruler
Cutting mat
Printable template (design of the desired choice)
Acrylic paint
Brayer (1-1/2)
Cotton yard
Pillow inserts (2)
Sewing machine and matching thread
Iron
Steps:
Mark the printable template on a white paper.
Cut the paper in a trapezoidal tape.
Tape the printable template onto the foam top.
Make use of a pencil to mark the edges.
Take off the paper template.
Next, take the utility knife to cut through the foam while tracing the marked area.
Then peel off the foam. Continue to cut through the foam remains until the block is completely separated.
Cut up a block for each paint color you're planning to use.
Now it is time to add the pattern. Begin printing from the upper corner of the fabric.
Take the stamp, repaint, and reprint next to the previous stamp, allowing the two prints to touch the edges.
Continue stamping until you finish at the fabric edges.
Once you finish, move on to the next printing row. Rotate the stamp upside down. Take the same measurements as row 1.
Continue with the stamping in rotating motion until you finish off with the entire area.
Set the paint to dry off.
Then heat-set by following the manual directions.
9 Creative Ideas for Decorating your Teen Bedroom
You can also bring your teen bedroom to life with these six incredible ideas.
7. Hang Hobby Props
A creative way to lighten up any dull space in your bedroom is to hang hobby probs. It will be great if your wall paint matches the theme and highlight the whole idea. You may think of hobbies that you like the most. For example, if you are into sports, then hang your athletic gear like your skateboard, bicycles, or paddle stick. If you are a movie buff, then look for artwork with filmy dialogues or any favorite celebs.
8. Wallpaper
Original designs of wallpaper are a cool way for decorating your teen bedroom. Bold elements and bright colored wallpaper will give the bedroom its own eclectic vibe. In addition, you can search for custom wallpaper designs if you wish to give a personal touch. You may choose between a permanent kind and a removable one depending on what you prefer.
9. Canopies
If you wish to give your bedroom a cozy ambiance, then try canopies. It will help give your bed a more personal vibe. Not only are they fun to create, but also offer a relaxed space. With muted wallpaper and a luxe bedspread, a canopy can balance off the look of any room. You can easily have it fixed using a ceiling hook, mosquito net canopy, ribbon, hot glue gun, and laces.
10. Upgrade Lightings
Depending on what theme you have set for your bedroom, you may opt for lighting options that blend in. If you are going for rustic décor, then lookup for vintage nightstands. It will give your room a chic and complete look. Or if your room has a modern vibe, then opt for geometric pendant lighting.
11. Create a Relaxing Nook
If the bedroom is spacious enough, create a little attic window seat in the corner to have a private nook to relax. Adding other elements like headboards, curtains, and upholstery to it would also be great. This hangout corner will be ideal for sitting with friends or even solo. You can also relax here with a book or use it while you get a siesta.
12. Art Words
Art words are another current favorite for teenagers. Whether you doing up a small or a large-sized room, your creativity is all that matters. You can play up with your favorite quotes, phrases, or a name that you absolutely love. Come up with different names and see how fun it gets while you set it off the wall while decorating your teen bedroom.
13. Faux-Fur Chair
Sweetheart, a faux-fur seat looks luxe and feels snug! Go for sheep-skin fabric available online or home stores. Drape it over your chair and watch it transforms your room in a minute.
14. Makeup Storage
Because your makeup deserves some love too. You can create one on your own using a candlestick holder centered by two plates and glue. You may use the larger section as the base and the smaller section as the top. Pile on your cosmetics for maximum glam. Decorating your teen bedroom is fun after all!
15. Use Shoes as Mini-Art
You can spend a lot of time browsing through the most exquisite looking shoes. But there is no point in hiding them in your closet. Instead, allow them their moment of glory by strategically placing them. You will have a whole shoe-art thing going on while decorating your teen bedroom.
Finally-a dreamy spot for yourself! It's time to say adios to your booooring makeshift bedroom items and welcome in these unexpected effects. Surrounding yourself with these ideas is sure to bring a smile on your face right after you wake up or head back home after a long day. So get started with decorating your teen bedroom and enjoy the process while it lasts.
Also read:
What does your Home Décor Say about your Personality?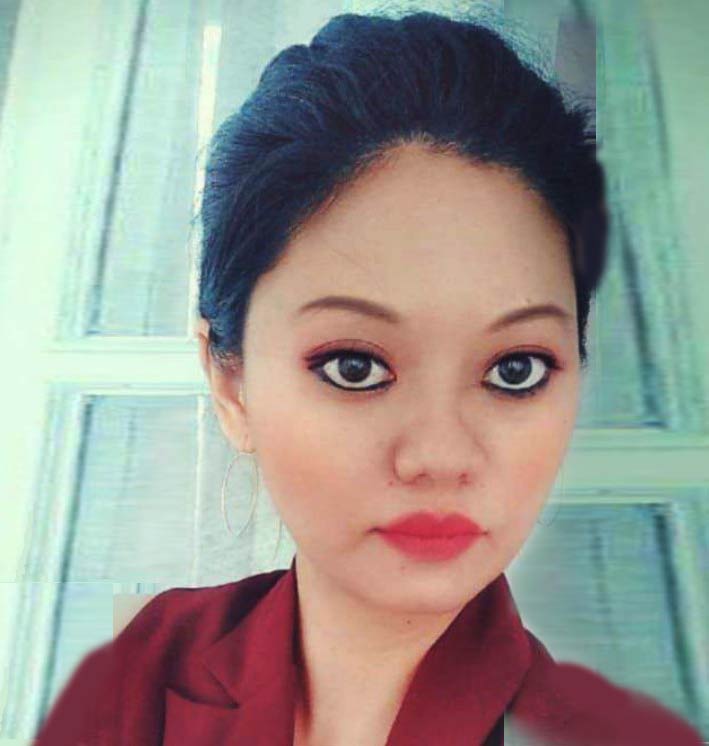 Lima Aier is a Staff Writer overseeing #content pertaining to latest news, home decor and lifestyle at Shilpa Ahuja Digital Media. Other than Decorisk, she also writes about fashion & relationship advice on ShilpaAhuja.com.
Prior to this, she started her career as a B2B writer which helped her quickly understand the business lingo and channel work around SEO articles for different writing spheres like financial services, education, marketing/ advertising, software technology, and healthcare.
She did Bachelors and Masters in English from North Eastern Hill University. In addition, she obtained a Diploma in Creative Writing. Originally from Dimapur, Nagaland, Lima loves staying up to date in current culture news, be it movies, music, or social media. When she isn't staring at an accessible screen, you can find her spending way too much napping or trying new beauty products.
She can be contacted at [email protected]