I did this project as an interior redesign project, which was initially published in "Indian Design and Interiors", July 2008 issue. The project called for providing redesign solutions for redecorating a living space of an existing apartment. The existing space looked like this:

The client wanted a low-budget and contemporary design proposal. I started with bold shapes and straight lines to create a modern ambiance, at the same time giving a warm, homely feel.
CONCEPT:
The keyword is dynamism.
Interesting motifs on the walls, contrasting colors, suspended chains and a carpet featuring free flowing lines, all create an aura of zing and energy.
The furniture layout is so designed as to cater to different groups of guests. The seating pools have also been increased so that they accommodate a good number of visitors at the times of a party.
The color combination was tricky! It had to look interesting and contemporary as well as gel with the rest of the spaces. I have carefully selected shades of cream and beige for backdrop contrasting with black for furniture. This gives an easy-to-maintain, yet a clean sophisticated look.
Hints of gold and red add drama in the form of cushions and decoratives. The gold chains make up for a translucent partition and a chic focal point.
The upholstery materials include rich fabrics and soft leatherette. Animal prints and geometric patters are used. Other materials include a soft carpet and a shaggy rug matching the color scheme. Natural laminates for wooden panel and center table complete the look.
A combination of black and ivory back painted glass is used to create a mural on one wall, while milky glass is used to make a bubble like creation on another. Uneven wooden frames accessorize the wall opposite main sofa.
The accessories all include local buys – silver leaves, a synthetic thread lampshade, long glass vases and earthen pots. All combining to create a low budget yet striking setting.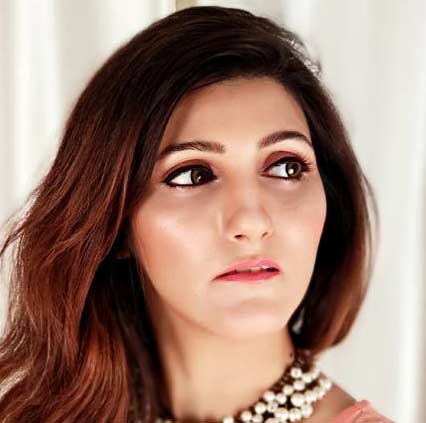 Shilpa Ahuja is a designer and editor of Decorisk Magazine. She has worked in hotel interiors at The Park Hotels, India, and has completed several home interior design projects as a freelancer.
She completed her Masters in Design Studies (MDesS) degree from Harvard University Graduate School of Design. She also has a Bachelor degree in Architecture (B.Arch) from Chandigarh College of Architecture. Her work has been published in Indian Design & Interior magazine and exhibited at Harvard University and at Aroma Hotel, Chandigarh.
Shilpa is also the Editor-in-Chief of Shilpa Ahuja Digital Media, which includes ShilpaAhuja.com, one of India's most-read digital fashion magazines. Originally from Chandigarh, she is currently based in Chennai, and can be reached at [email protected]