With their beautiful designs and rich colors, ethnic Asian rugs were a favorite of ancient princes and now, modern-day elite. From Persian to Indian to Chinese, here are the different types of oriental rugs, and how you can identify each of them. 
Carpet weaving is believed to have originated in the middle-east around the Bronze Age, and oriental carpets have always been popular due to their opulent designs And who can forget the magical carpet in Aladdin? Let's discover the beauty and mystique of different types of oriental carpets.
Oriental Rugs Explained
The term oriental rugs is used to denote carpets that are made by nomads in Persia (present day Iran), Turkey, Turkmenistan, the Caucasus, China and India. With beautiful motifs, design characteristics, rich colors, and quality weaving, these rugs have made a name for themselves in the world of interior design.
These handmade pieces are of three types: rugs, carpets and kelims. Rugs are smaller than 40 square feet, and carpets are larger. Carpets and rugs both are made by knotting lengths of wool. Whereas kelims or kilim rugs are made by weaving threads, which is a technique similar to embroidery.
In some cases, all handmade pieces are referred to as rugs, whereas those made by machine are called carpets. The history of oriental rugs is believed to date back one thousand years in Persia and even two thousand years in China. In the modern times, different types of oriental rugs and carpets are often factory-made, too.
Identifying Types of Oriental Rugs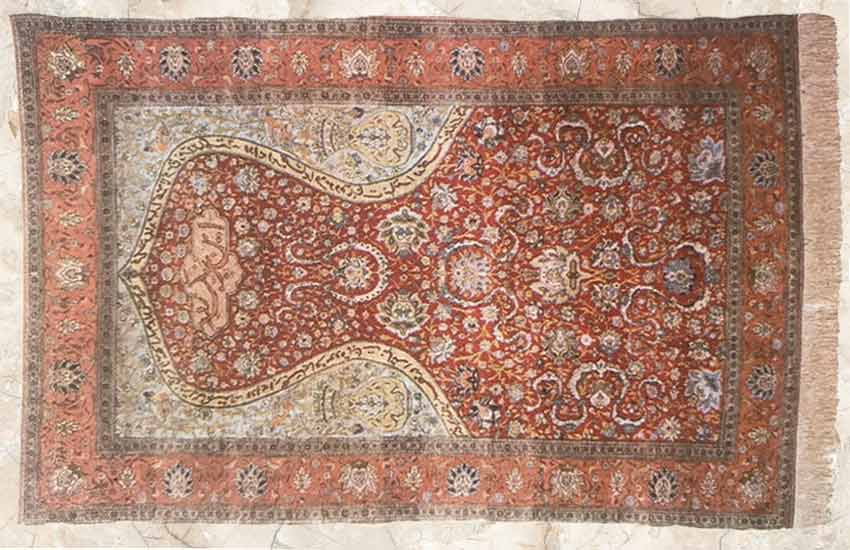 At a first glance, all oriental rugs look similar to each other, because of their similar color palettes, weaving style and design. Red is a major color and Islamic motifs, flowers and leaves are common. However, if you look closely, you can identify one type from another.
Oriental rugs are traditionally made by nomadic tribes and ethnic groups, and as such, each region produces different designs. With rich colors, intricate Islamic motifs and woven in the Senneh knot, Persian carpets are the most popular among all types of oriental carpets. However, carpets from other parts in Asia such as China and India are just as beautiful. Both of the latter use different motifs than Islamic carpets, and as a result you can easily make out which one you have. Let's find out about each of the different types of oriental rugs.
Persian Rugs
Persian rugs are one of the most famous rugs in the world. The larger rugs are made by highly trained weavers. However, there are also nomadic weavers who make small but gorgeous rugs. With intricate patterns, Persian rugs are some of the most well-designed types of oriental rugs.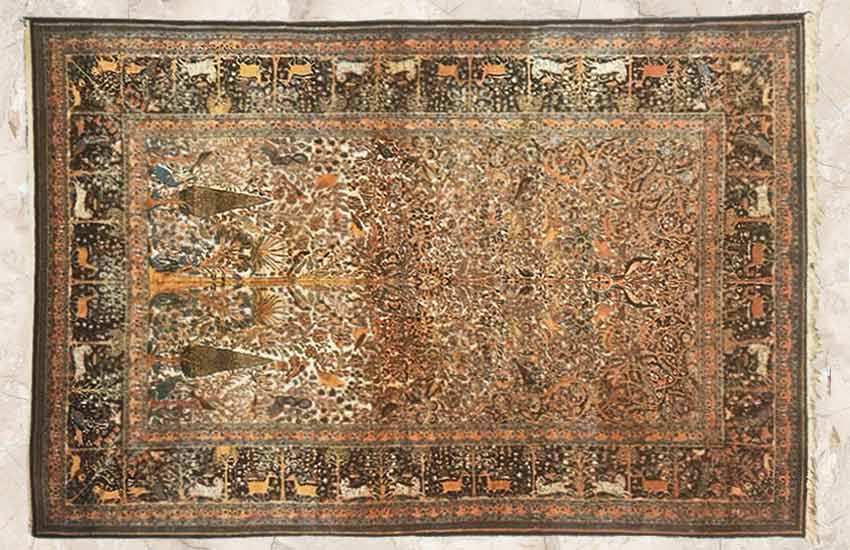 Persian rugs use deep colors, and deep red is usually most prominent. They have rich and warm color palettes, mostly using wine and crimson. They also use gold, saffron and cream colors. The most common material used for these rugs is wool and fine silk. There is an old Persian saying, "The richer man, the thinner the rug. This refers to the superb quality of silk.
Some of the most popular among Persian rugs are Keshan rugs. They were made in the city of Keshan in the 17th century in the Safavid dynasty. There are animals and people depicted on these rugs. Other motifs include leaves, flowers, bushes and other garden themes. They also use traditional Islamic motifs that are Guls, Tekkes, Botehs, Herati, tarantulas, dogs, camels and also calligraphy.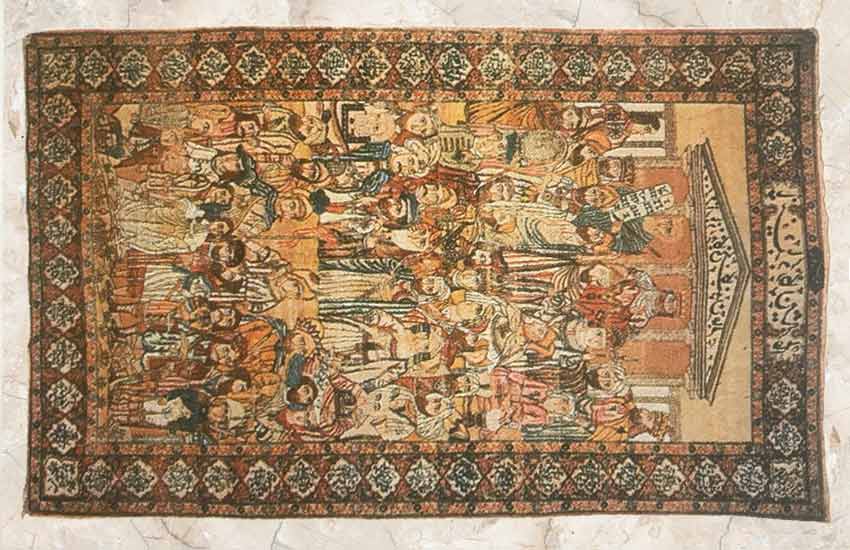 Turkish Rugs
When we think of Turkish rugs and carpets, Persian rugs always come to mind first. However, Turkish rugs are just as beautiful and traditional as Persian rugs. They use geometric motifs and their rugs are traditionally used for Muslim prayers or namaz.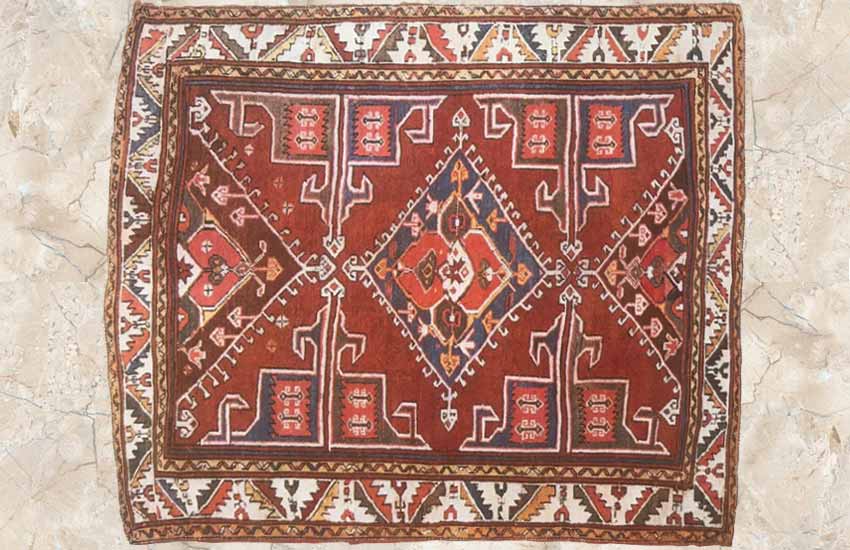 A majority of Turks are Sunnis, and in their culture, they prohibit the designs of animals and people on their rugs. Calligraphy motifs are instead more common, along with flowers. Calligraphy is used especially the rugs form Hereki, which is the most famous carpet destination.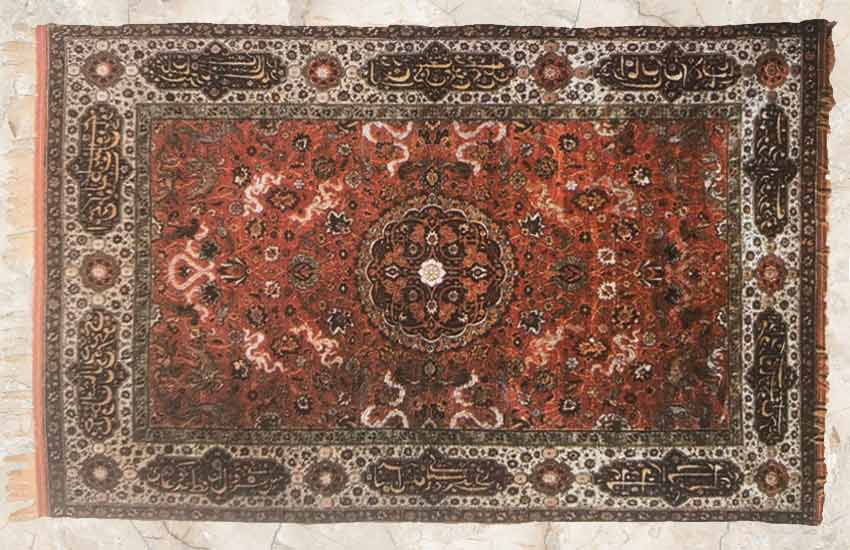 Turkish rugs usually have a mix of warm and cool color palettes. They use red as the main color and have blue, green, mustard, and yellow motifs and are coarsely woven. Green is most commonly used on prayer rugs as it is considered to be a sacred color.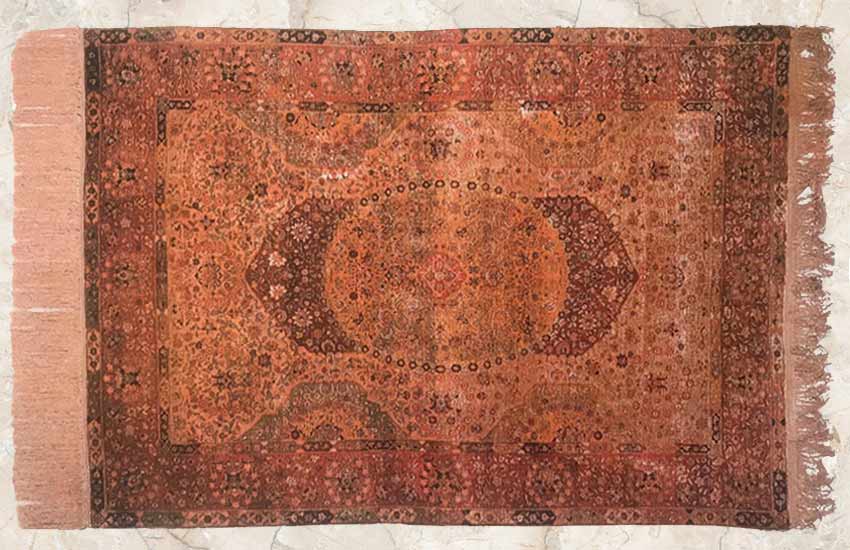 Caucasian Rugs
The Caucasus region (lying between Caspian and Black seas) contains 3 countries, which are Azerbaijan, Armenia and Georgia. The Nomadic tribes in the Caucasus have created high quality heritage weaves. Tribes from Turkey, Armenia and Persia also inhabit the Caucasus region, and that's why influences from these places is seen in Caucasian rugs. The most famous towns where carpets are produced are Kuba, Chi Chi, Karabagh, Kazak and Sumak.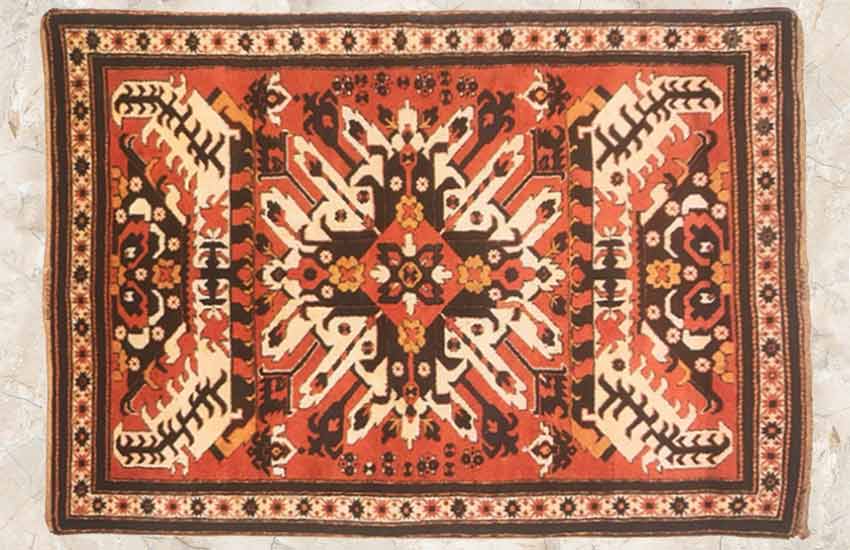 Caucasian rug designs are the most geometric among different types of oriental rugs. They have strongly geometric patterns and their motifs depict birds and flowers. Crabs, beetles and medallions are also used. The borders of Caucasian rugs include other motifs like stars, rosettes or running dog pattern, which is similar to the Greek key motif. They have rich and deep colors such as red, maroon, blue, green, brick and navy. Lighter colors like marigold, beige are used for accents within the design.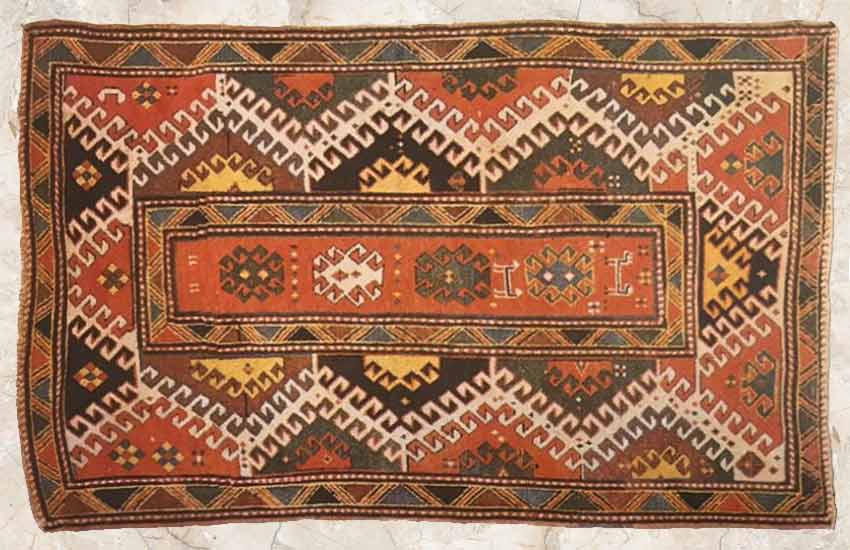 South Caucasian rug
Turkoman Rugs
The region between Caspian and north western China used to be called Turkestan and now includes the countries of Kazakhstan, Tajikistan, Uzbekistan, Kyrgyzstan, Turkmenistan, Pakistan and Afghanistan. The Turkoman rugs are also made by nomadic tribes like Afghani and Baluchi and they have geometric patterns similar to Caucasian rugs. Motifs include garden themes and simple geometric shapes. Beshire and Afghani rugs use colors such as yellow, green and red. Baluchi rugs use dark blue, rusty red and bluish mauves. Their designs are mostly similar to Caucasian rugs.
Indian Rugs
Although the design of Indian and Persian rugs is similar, the former have definite characteristics of their own. Indian rugs are very famous for their gorgeous manmade weaving and long, coarse pile. Sometimes rich princes and merchants asked trained weavers to make carpets for them, and that's where the native tradition of Indian rugs started. In fact, Indian rugs have their own different types, as those from different regions differ a bit in design and colors, such as Srinagar, Amritsar and Jaipur.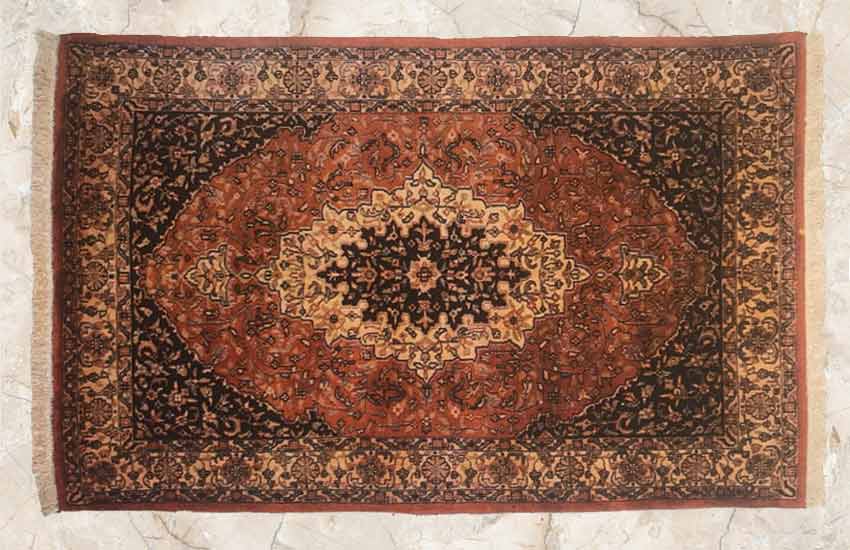 Indian rugs have beautiful patterns on them. The rug city of India is the Bhadohi-Mirzapur region of Uttar Pradesh, which is famous for Gabbe woollen carpets in India and outside India. This region is famous since the Akbar regime for heritage rugs, and the carpets manufactured here are mainly export-centric.
Earlier, the Persian design was the primary attraction of the carpets manufactured here. However, as time passed, Indian rugs became more distinct as they adopted their own native styles and colors. The motifs of Indian rugs include abstract floral designs instead of animals and there are also leaves, trees and birds. The colours are sometimes dark and sometimes light like pink, cherry red turquoise green and orange-brown colours.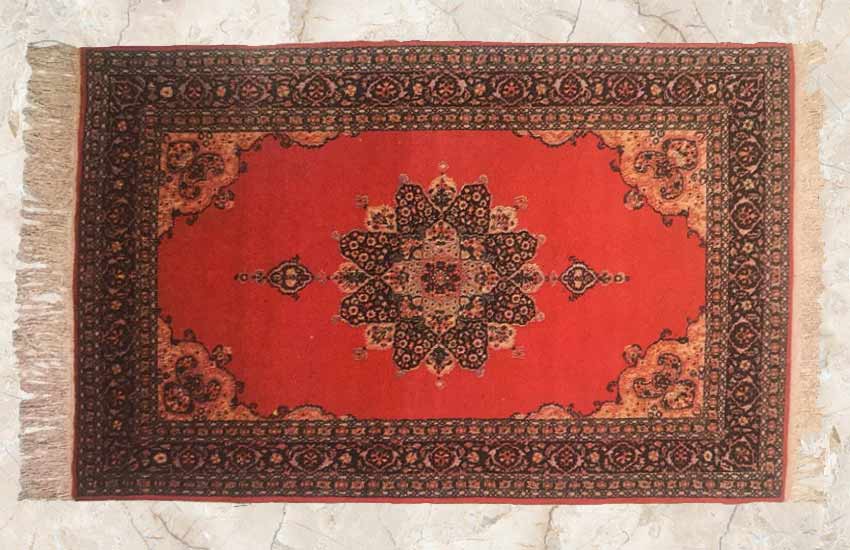 Chinese Rugs
Ancient Chinese rugs actually date back to more than two thousand years ago. And rug-weaving became an industry in the mid-eighteenth century. Instead of nomadic, Chinese rugs are woven in factories or organized workshops.
With a completely different range of colors and motifs, Chinese rugs stand out at once from other types of oriental rugs like Persian, which are inspired by Islamic culture. In the Chinese carpets, traditional Buddhist and Taoist designs and motifs are used, including branches, leaves, animals, birds and well thought-out garden-scapes. Flowers include lotus, daffodil and peony. Dragon and pomegranate motifs are also used. The colors include yellow, peach, apricot, brown, olive green and blue.
Hope this guide to types of oriental rugs was helpful. Which is your favorite? Let us know below.
Intro and edits by: Shilpa Ahuja
Read next:
Vintage Home Decor Ideas on a Budget: Age of the Vintage