Dining Chairs
Renaissance X Chair
(c. 1580) Ubiquitous throughout Europe during sixteenth century and usually covered in cloth or leather.
English Joined Chair
(c.1600) Lighter looking design without panelling below the seat and arms.
American Brewster Chair
(c. 1650 – 75) Elaborate example of Windsor, or stick furniture, with turned, upright spindles both above and below the seat.
Chippendale Chair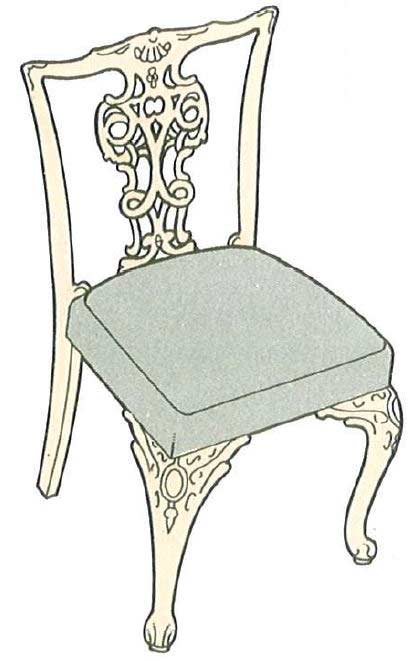 (c. 1755) Typical example, with pierced and carved central splat, cabriole legs and freely adapted Rococo motifs.
French Chinoiserie Chair
(c. 1780) Adaptation of Chippendale's Gothic design shows interchange of ideas between designers.
Hepplewhite Shieldback Chair
(c. 1788) Adaptation of Adam's style, with its delicate shape and tapered legs.
English Trafalgar Chair
(c. 1895) Regency design, typified by chair backs of two horizontal rails with cable moulding.
American Hitchcock Chair
(c. 1825-30) Factory-madechair with stencilled decoration.
Thonet Bentwood Chair
(c. 1849) Light, linear development of Windsor chair, produced by bending steam-heated sections of wood.
Breuer Chair
(1928) Prototype cantilevered chair, made with a single length of tubular steel.
Ponti Chair
(c. 1950) Fragile-looking but tough design, refined and adapted from old, rustic models for mass production.
Fibreglass Chair
(c. 1980) Brilliantly coloured chair by Magistretti which follows popular trend of using man-made materials.
Pila Stacking Chair
(1969) Space-saving chair in transparent plastic , can be folded, stacked or hung.
Director's Chair
Modern version of Renaissance "X" chair , popular for its cheapness and versatility.
Occational Chairs
English turned chair
(c. 1610) Solid oak chair with triangular seat and turned support.
Louis XIV Baroque Chair
(c. 1680) Velvet-covered chair with gently sloping, high back; shows growing desire for comfort.
American Slat-Back Chair
(c. 1680-1710) Sensitively-turned New England chair, typical of the sturdy finesse shown in early American furniture.
Louis XV Rococo Chair
(c. 1710-60) Good example of sinuous, relaxed contours and florid decoration so popular throughout Europe.
Transitional Queen Anne Chair
(c. 1710-30) Legs in the William and Mary style with a gracefully curved splat, typical of the Queen Anne period.
Danish Louis XVI-Style Chair
(c. 1775-85) French Neoclassical-style chair although decoration is simpler, using fewer curved lines.
Bergere Chair
(c. 1810) English adaption of French bergere style, using can instead of upholstery.
French Restoration Chair
(c. 1830) Typical style throughout Europe, with boat-shaped back and cabriole legs.
Early Victorian, English Chair.
(c. 1835) Revival of Gothic style, in glit beech, with arched decoration.
Late Victorian, English Chair
(c. 1875) Mass produced, Georgian-style chair reflects technological advance and revivalist fashion.
Le Corbusier Chair
(1929) Dramatic new use of tubular steel, reflects Bauhaus group's insistence on functional design.
Barrcelona Chair
(1929) Innovative design by Mies vander Rohe, combining intersecting steel bars with leather upholstery.
Eames Chair
(1948) Moulded plastic chair, designed using techniques developed during World war II.
Modern Gothic Chair
(1980s) Simplified version of traditional Gothic style in black laquer and cane.
Light Rattan Chair
Lightweight, adaptable design resulting from an increasing emphasis on cheapness and manoeuverability
Upholster Chairs
Dutch Rosewood Chair
(c. 1620) Lightly padded early armchair shows emphasis on imposing appearance, not comfort.
French Louis XIV Chair
(c. 1665) Brocade-covered chair with new, generous proportions and curved, Baroque-style arms.
English Winged Chair
(c. 1680) Well upholstered walnut chair with thick seat and back; carved legs show prevalent French influence
Winged Bergere Chair
(c. 1750) Beech-framed chair with classic Rococo carving; deeper, wider seats shows growing demand for comfort.
Hepplewhite Armchair
(c. 1780) Delicately-carved mahogany and brocade chair; the emphasis on elegance rather than comfort is typical of the period.
Victorian Gothic Chair
(c. 1840) Sturdy mahogany-framed chair, basedon a Pugin design, reflects the movement away from english Rococo copies.
Turkish Frame Chair
(1880s) Internally-sprung, fully upholstered chair developed after the invention of the metal coil spring.
Art Deco Armchair
(1930s) The curved shape of this fully upholstered chair is typical of Art Deco design of the Thirties.
Charles Eames Chair
(c. 1956) Innovative design in rosewood veneer with moulded plywood frame and leather-covered upholstery, mounted on a metal pedestal.
Arne Jacobsen "egg" Chair
(1958) Originally-shaped pivoting chair with hide-or wool-covered upholstery over a plastic shell.
Foam Chair
Sqyashy, cotton-covered chair, designed for comfort with its low back and deep seat.
Unit Chair
Versatile modular seating which can be used singly or with others to form a seating unit.
Maralunga Chair
Adaptable chair by Magistretti; balances comfort and elegance with a low back which simply folds out to provide support.
Cushioned Leather Chair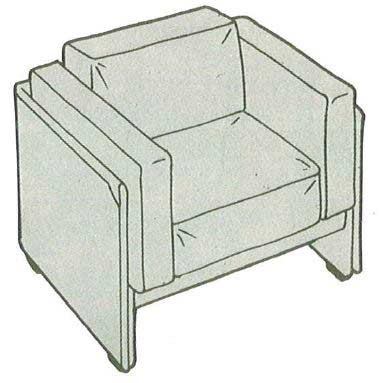 Light, angular design with practical, zippered sides and comfortable foam cushions.
Settees Sofas
Early Georgian Settee
(c. 1725) Walnut settee with gently curved serpentine back, cabriole legs and shepherd's crook arms, typical of the period.
French "Sultane" Sofa
(c. 1760) Contemporary interest in the exotic, reflected in both the name and the luxurious velvel bolster.
American Mclntire Sofa
(c. 1795) Typical queen Anne-style mahogany sofa with its elegant, formal lines.
Chesterfield Sofa
(c. 1840) Popular example of deep, button-backed upholstery which followed the invention of the wire spring.
High-Backed Sofa
Slim, deep-seated sofa, reflects modern desire for elegance and comfort.
Cushioned Sofa
Streamlined, practical sofa with removable suede upholstery for easy cleaning.
Modular Sofa
Armless sofa, can also be joined to single chairs or stools.
Chaises Longues
Walnut Day Bed
Good example of the period with its canepanelled and foliate carving.
Regency Chaise Longue
(c. 1820) Dignified classical chaise, notable for the curving lines of the ends, back rails and legs.
Le Corbusier Chaise Longue
(1927) Innovative design with adjustable frame in chromium-plated steel.
Modern Chaise Longue
Elegantly comfortable combination of glove leather with modern materials – steel, moulded plastic and foam.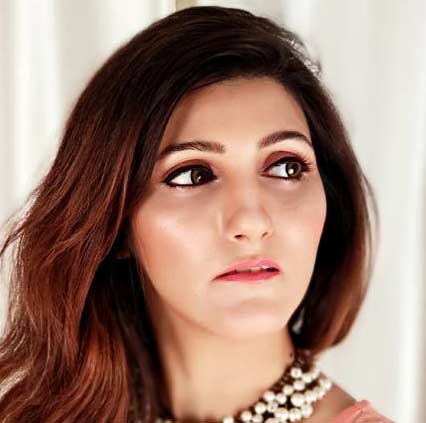 Shilpa Ahuja is a designer and editor of Decorisk Magazine. She has worked in hotel interiors at The Park Hotels, India, and has completed several home interior design projects as a freelancer.
She completed her Masters in Design Studies (MDesS) degree from Harvard University Graduate School of Design. She also has a Bachelor degree in Architecture (B.Arch) from Chandigarh College of Architecture. Her work has been published in Indian Design & Interior magazine and exhibited at Harvard University and at Aroma Hotel, Chandigarh.
Shilpa is also the Editor-in-Chief of Shilpa Ahuja Digital Media, which includes ShilpaAhuja.com, one of India's most-read digital fashion magazines. Originally from Chandigarh, she is currently based in Chennai, and can be reached at [email protected].