Discover the perfect paint types for a festive Diwali home glow-up! Our guide on types of paints and help your walls shimmer with celebration.
Diwali is around the corner, and many of us are already caught up in its infectious enthusiasm. As we plan to decorate our homes with twinkling diyas, fairy lights, and vibrant rangolis, a fresh coat of paint can make a world of difference to the festive vibe! But with a dizzying array of paint options out there, where does one begin?
Just like you wouldn't shop for new clothes without knowing the fabric, understanding the types of paints is key to ensuring your walls look their festive best. The choice of paint largely depends on the intended use, desired appearance, and specific conditions of the environment. Here are the commonly used types of paints:
Distemper
These are water-based paint made from chalk, lime, water, and pigments. They are applied using a brush or roller. Generally requires multiple coats. Suitable mostly for exteriors.
Distemper is an economical painting option that gives a smooth finish, easy to apply, and dries quickly. However, they are not very durable, can't withstand moisture, fades over time, less washable compared to other paints.
Popular distemper brand options are
Tractor Uno Acrylic Distemper by Asian Paints
Bison Acrylic Distemper by Berger Paints
Beauty Smooth Finish by Nerolac
Emulsion Paints
These are water-based paints with acrylic or vinyl as the primary component. They can be applied with a brush, roller, or spray. Suitable for both interiors and exteriors.
Emulsion paints are durable, provides a smooth finish, resistant to moisture and UV rays, washable, and available in a wide range of colors. They are slightly costlier than distempers, might require a primer for better adhesion.
Popular emulsion paints available in the market are
Royale Luxury Emulsion from Asian Paints

Berger Silk Luxury Emulsion Paint

Nerolac's Impressions 24 Carat Premium Emulsion
Cement Paint
These are a combination of white cement, lime, and pigments. They are applied by mixing with water and applied using a brush and are mostly suitable for exteriors.
Cement paints provides a matte finish, protects against weathering, cost-effective. They are not as durable as emulsions, can develop cracks over time, limited color range.
Cement paint is a broad category and many times, it's referred to as "wall putty" in Bharat / India. However, both serve different purposes. Some popular examples of cement paints are
Birla White Cement Based Wall Putty from Birla White

JK White Cement's J.K. Wall Putty
Enamel Paints
These are oil or solvent-based paints with alkyd resins or modified forms. They are used for both interiors and exteriors and are applied using a brush or roller.
Enamel paints provides a glossy finish, highly durable, resistant to moisture and stains. They takes longer to dry, emits fumes which require ventilation, harder to clean brushes post-application.
Popular enamel paint options available in India are
Apcolite Premium Gloss Enamel from Asian Paints

Berger Paints's Breathe Easy Enamel

Impressions Eco Clean Ultra Luxury Enamel from Nerolac
Texture Paints
These are can be water or solvent-based with specific additives to give texture. They are applied with special tools to achieve the desired texture and are suitable for both interiors and exteriors.
Texture paints adds aesthetic value, masks imperfections, can be customized to various patterns. They can be expensive, requires skilled labor for application.
Popular texture paint options available in India are
Asian Paints's Royale Play Textures
Illusions Design Metallica from Berger
Nerolac's Impressions Metallic Finish
Primer Paints
These are a preparatory coat to provide a smooth surface for the main paint. Contains binders, solvents, and additives. They are applied before the final paint to enhance adhesion.
Primer paints have high durability and appearance of the final paint coat, prevents paint from soaking. An additional step that can be time-consuming, adds to the overall cost.
When selecting paint for brick walls, it's essential to consider factors such as the specific environment (whether the wall is exposed to direct sunlight, rain, or other factors), desired finish, budget, and longevity. It's always recommended to consult with a local paint specialist or dealer to get a better understanding of the best paint type for your specific requirements.
Ace Exterior Emulsion Primer from Asian Paints

WeatherCoat Exterior Primer from Berger Paints

Exterior Primer from Nerolac Paints
Silicate Paint
These paints are made of silicate mineral and inorganic mineral pigments. They are used for both exterior and interior surfaces, especially for historical buildings.
Silicate paints are highly durable, vapor-permeable, resistant to UV radiation, mold, and algae. They have a limited color palette, can be expensive, and require special expertise for application.
Popular paints options for silicate paint are KEIM's Soldalit
Epoxy Paint
These paints are based on epoxy resins, it provides a tough and resistant coat. They are commonly used for industrial settings, garages, and places requiring high resistance to chemicals.
Epoxy paints are extremely durable, chemical and abrasion-resistant. Their weakness is that they can yellow over time with exposure to sunlight, requires careful mixing of components, emits strong fumes during application.
Popular epoxy paint options available in the market are
Apcolite Advanced 2-Pack Epoxy Finish by Asian Paints
Berger Epilux 5 Epoxy Finish by Berger Paints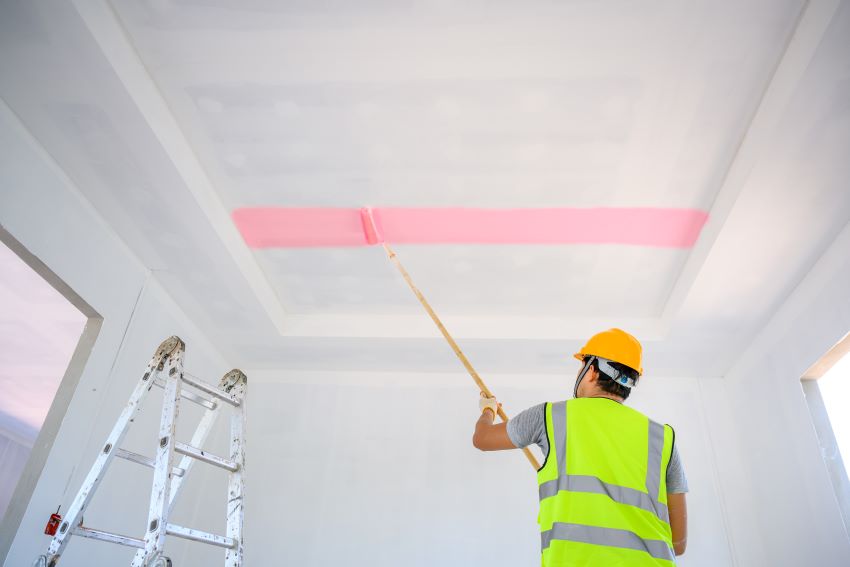 Limewash
These paints are made from slaked lime mixed with water. They can be applied to brick, stone, and other masonry surfaces.
They are eco-friendly, gives a unique matte texture, allows walls to breathe, naturally repellent to mold. Lime wash paints have limited in color choices, can rub off if touched, needs multiple coats for coverage.
Although traditional limewash might not be a mainstream commercial product, several local artisans and craftsmen may provide it. There isn't a major brand present in this category in India.
Elastomeric Paint
These are Water-based paint made of acrylic resins with elastomeric quality. They are ideal for exteriors, especially in areas with large temperature fluctuations.
Elastomeric paints can bridge small cracks, is waterproof, and provides a durable and thick coat. They can be more expensive than regular paints, requires careful surface preparation.
Popular options for elastomeric paint are
Apex Ultima Protek by Asian Paints
Weather Coat Long Life by Berger Paints
Shilpa Ahuja is a designer and editor of Decorisk Magazine. She has worked in hotel interiors at The Park Hotels, India, and has completed several home interior design projects as a freelancer.
She completed her Masters in Design Studies (MDesS) degree from Harvard University Graduate School of Design. She also has a Bachelor degree in Architecture (B.Arch) from Chandigarh College of Architecture. Her work has been published in Indian Design & Interior magazine and exhibited at Harvard University and at Aroma Hotel, Chandigarh.
Shilpa is also the Editor-in-Chief of Shilpa Ahuja Digital Media, which includes ShilpaAhuja.com, one of India's most-read digital fashion magazines. Originally from Chandigarh, she is currently based in Chennai, and can be reached at [email protected].