With a mix of urban and art nouveau design elements, Shilpa Ahuja talks about how she created timeless interior design of her own home.
Today I'd like to feature my own work. I designed the interiors for the renovation of my own home near Chandigarh, India. I was very excited to do this because it's not often that you get to design a project that you can (or rather have to) live in. And over the years, working in home design makes you the supporter and critic of your own work.
Home interior design is not new to me, but I have worked more on commercial projects – hotels, restaurants and offices. As they say, homes are starting to look more like hotels these days and hotel owners want their hotels to have more of a homey feel.
Before the renovation, the house had many contemporary interior design characteristics of the early 90s. The structure was clean and very easy to work with, since I knew the tastes of the occupants (my parent)! So I decided to keep many of the modern home features and add my own touch to it.
There was a lot of discussion about what interior design styles we wanted to introduce – should it be rustic, modern contemporary interior design or minimal? In the end, I went with what felt right, and knew I had wanted it all along. The idea was simple – I wanted something we'd never get bored of. No matter what the style of interior design, this should be the guiding mantra for any modern home interior.
Timeless Interior Design: The Concept
There was no particular theme I was working with. However, the idea was to create something rich, timeless and classy, yet not too vintage. It should be classic home décor that never goes out of style. Lots of patterns have been used to complement the timeless home construction, with fabrics, laminates, headboards and staircase banister.
But how to create a timeless design? I stayed away from interior design & decor fads. And instead, worked to create a seamless mix of urban contemporary and art nouveau. This right mix is the secret to timeless decorating.
Timeless Color Palette
I also used some timeless interior design colors inspired by pearls and precious stones – ruby, amethyst and freshwater pearls.
There are a lot of whites, with  bold color accents, creating interesting palettes – a bit of a different look in every room, tied together with many common design elements. And of course, a lot of nude beige highlights the staircase area for an even more classic look.
For the wood, I chose wenge for its warm, classic tones. And it contrasts well against the whites and beiges.
Classic Elements Mixed with Contemporary
The staircase banister has a very French, art nouveau look with its black wrought iron floral design. Sort of like the staircase in Petit Palais, Paris, but cleaner and more modern, topped with an aluminum balustrade. Its pattern matches the dreamy and fantasy-like pattern of the living room cabinets. A crystal chandelier hangs above the center of the spiral staircase in the dining hall.
The furniture adds a touch of modern interior design with its clean lines and warm tones. I also introduced other modern interior design elements: clean lines in the bedside tables, kitchen and bathroom cabinets and wood paneling.
For the new design, I also added timeless furniture pieces like upholstered bedhead, solid wood chairs and more.
Artwork
Of course, no classic interior design is complete without some artwork on its walls. My first set of glass paintings that I call "The Story of the Maple Leaf" are in the living room, while my oil painting set "Romance" adorns the front wall of my room.
The drawing room features my glass mosaic art that matches the sofa upholstery.
And now there are a few more oil paintings that adorn my room. One can't have enough, can they?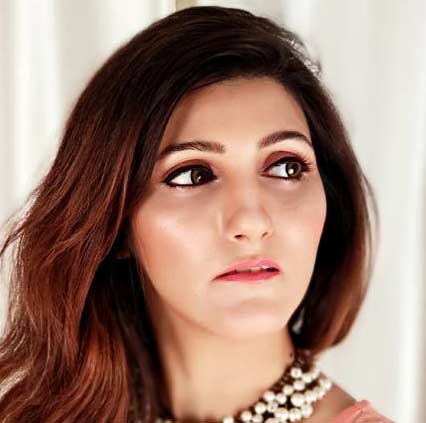 Shilpa Ahuja is a designer and editor of Decorisk Magazine. She has worked in hotel interiors at The Park Hotels, India, and has completed several home interior design projects as a freelancer.
She completed her Masters in Design Studies (MDesS) degree from Harvard University Graduate School of Design. She also has a Bachelor degree in Architecture (B.Arch) from Chandigarh College of Architecture. Her work has been published in Indian Design & Interior magazine and exhibited at Harvard University and at Aroma Hotel, Chandigarh.
Shilpa is also the Editor-in-Chief of Shilpa Ahuja Digital Media, which includes ShilpaAhuja.com, one of India's most-read digital fashion magazines. Originally from Chandigarh, she is currently based in Chennai, and can be reached at [email protected]